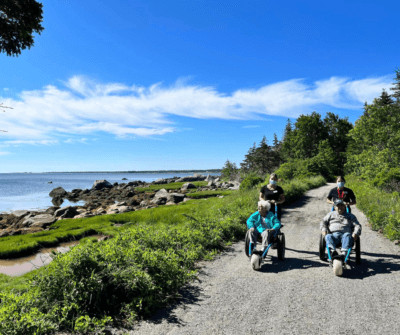 Sometimes, the impact of a project or a donation can be hard to see immediately and only makes itself known over time — especially in health care, where the impact of new equipment and services often takes time to become apparent. And then sometimes, the impact is easily spotted. Bay Side Home, one of last year's YHF Commitment to Health Care Community Fund recipients, submitted a grant proposal for a project where the impact was as plain as the smiles on their service-users' faces.
Bay Side Home in Barrington is a long-term care facility for sixty-two residents, providing care at its best by working to meet the needs of the whole person and helping maintain a quality of life. Many of their residents require mobility assistance or are dependent on a wheelchair and these needs can limit their access to community or outdoor spaces. They applied to and were awarded a YHF Commitment to Health Care Community Fund grant last year, and the delightful results are so plain to see in the photographs from their Facebook.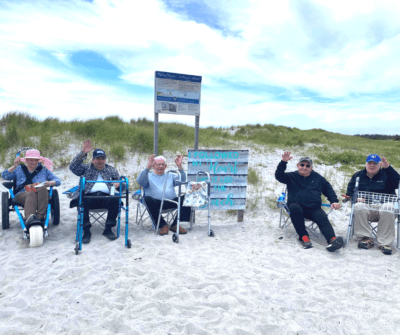 The purchase of the Hippocampe all-terrain chairs allows their residents to access the beautiful area in which they live, and to visit places they once were able to go prior to residing at Bay Side Home. It enables visits to the beaches and seaside trails alongside the Atlantic Ocean, allows for the opportunity to travel and participate in activities around the province and to other outdoor attractions. Along with the physical benefits of time spent in nature, it supports mental health and well-being. Bayside's Recreation Manager, Megan Lemoine noted, "Being outdoors attributes to better moods, decrease the chance of depression, reduced stress, provide opportunities for socialization and improve cognitive function."
If you are a part of a registered charity or recognised non-profit in the Tri-County area, please take the time to look over our grant application today. Applications close 30 September, 2022.