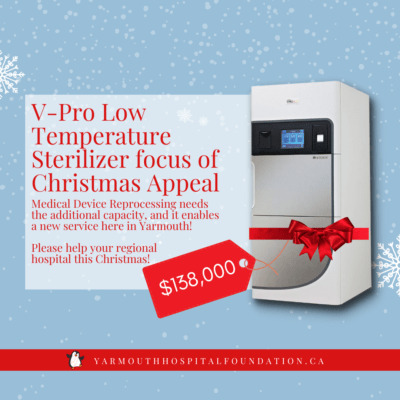 This season of giving, Yarmouth Hospital Foundation has announced that the focus of our annual Christmas Appeal is a V-Pro Low Temperature Sterilizer for the Medical Device Reprocessing Department. The total cost of the equipment is $138,000.
This equipment is urgently necessary at the Yarmouth Regional Hospital, says Medical Device Reprocessing Department manager, Danny LeBlanc. "Low-temperature sterilizers are the most efficient and effective way to sterilize items that are heat sensitive, items such as cystoscopes," LeBlanc explains.
Gaining the capacity for low-temperature sterilization means Yarmouth Regional Hospital can now offer the 10-minute procedure that patients in the Tri-Counties previously have had to travel to Kentville or Bridgewater to undergo.
Urologist Dr. Trevor Butler, explains that "the addition of the flexible cystoscopy service at Yarmouth Regional Hospital will be critical in providing timely investigation and management of patients with bladder cancer and other bladder conditions."
That's welcome news to patients like Linda from Carleton, who has made the five-hour return trip to Kentville twice a year for the past seven years.
With this purchase of state-of-the-art sterilization equipment, turn-around time needed for reprocessing necessary equipment will be reduced, meaning more procedures can be conducted. Every medical department in your regional hospital is impacted by the work of the Medical Device Reprocessing Department.
"Your donation is a gift to your regional hospital, and a gift of accessible health care for our communities," says YHF Board Chair Neil LeBlanc. "Purchasing this equipment will mean a very Merry Christmas at Yarmouth Regional Hospital. Will you help us?"
You can donate by e-transfer to info@yarmouthhospitalfoundation.ca or online at yarmouthhospitalfoundation.ca.
Together, we can improve patient care and invest in our collective future by keeping Yarmouth Regional Hospital and the Tri-County area at the cutting edge of modern medical technology.