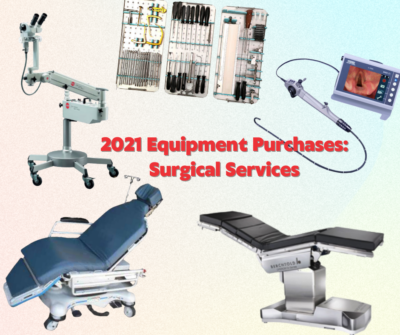 Equipment in focus: surgical services
In 2021, Yarmouth Hospital Foundation's equipment commitments included the purchase of several critical items for the Perioperative Care/Surgical Services team.
Five Ophthalmology Stretchers: cost $48,000
These stretchers (bottom left) support patients before and during eye surgery procedures, mainly for cataract surgery. Cataract surgery replaces the cloudy lens caused by the cataract and therefore improves the patient's vision and quality of life.
ACL Repair Orthopedic Instruments: cost $45,000
The ACL (anterior cruciate ligament) is one of four primary ligaments that provides stability to the knee joint. ACL reconstruction is surgery to replace a torn ACL. The surgery improves a patient's mobility. (middle top)
C-Mac Fibreoptic Scope: cost $25,000
This flexible scope attaches to a video intubation machine that allows visualization of the patient's airway. This piece of equipment provides increased safety to the teams — in particular during COVID — allowing distancing during placement of the intubating tube. (top right)
Colposcope: cost $35,893
The Colposcope (top left) is used for gynaecological procedures both in the perioperative setting as well as in an ambulatory care setting. This device provides amplified visualization during examination of the cervix to detect cancerous or precancerous or abnormal cells.
Surgical Table: cost $76,913
A state-of-the-art surgical table (bottom right) offers angle adjustment capabilities that can help your surgeon reach the surgical area more comfortably and safely. It is also critical to delivering the right dosage of anesthesia.
"The new table offers the additional benefit of expanding the kinds of surgeries that can be performed in Yarmouth and therefore eliminating travel for many patients," said Yarmouth Regional Hospital Site Medical Lead and general surgeon Dr. Chris Murphy.
Equipment Purchases: Perioperative Services, 2021
| | |
| --- | --- |
| Colposcope | $35,893 |
| C-MAC Fiber Optic | $25,000 |
| ACL Repair Orthopedic Instruments | $45,000 |
| Five Ophthalmology Stretchers | $48,000 |
| Surgical Table | $76,913 |
| Total – 100% funded by YHF donors | $230,806 |
Did you know… The perioperative period is the time period of a patient's surgical procedure. It includes ward admission, anesthesia, surgery, and recovery.
Surgical Department By the numbers, 2021
Total number of surgical visits: 5,614
Inpatient surgical visits: 798
Day patient surgical visits: 4,816
These surgeries may have been General Surgery, ENT, Obstetrics, Gynecology, Urology, Ophthalmology, Orthopedics, Vascular or Endoscopic procedures.