Patient stories with Wanda & Susan
One Saturday night in July 2021, Wanda Devine — who has suffered from Crohn's Disease for years — was in the Emergency Department in extreme pain. Dr. Oleg Lefel diagnosed her with sepsis, a potentially life-threatening condition that occurs when the body's response to an infection damages its own tissues, and immediately whisked her into the operating room. "He literally saved my life," Wanda said. Just 36 hours later, she had to undergo a second surgery to attach a colostomy bag.
Wanda spent 16 days in recovery and has nothing but praise for the amazing care by all the staff on the surgical ward: "The doctors and nurses were so compassionate and caring," she said. One of the nurses, whom she'd known from childhood, would stay after her 12-hour shift to wash Wanda's hair and give her a back rub. The ostomy nurse who helped her during those difficult days keeps in touch and continues to provide advice and care. "It wasn't a wonderful stay, but they made my stay the best possible experience that it could have been." When she was feeling better, Wanda made a point of sending thank-you notes to express her appreciation for the care she received — and reached out to YHF to share her story.
Wanda Devine is the owner of the Dennis Point Café in Lower West Pubnico.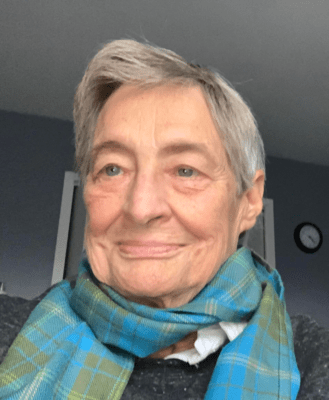 Spending four months in hospital is no one's idea of a good time, but Susan Reed is full of praise for the staff at Yarmouth Regional Hospital who helped her during a difficult period. "From the RNs to the guys who drove the big floor cleaners: they were kind, professional and pleasant," Susan said.
In December 2020, she arrived at the Emergency Department in great pain, very weak and with virtually no blood circulation in her left foot. She received immediate attention and was transferred to Halifax for surgery to remove blood clots. Ten days later she was returned to Yarmouth for recovery and to await surgery to amputate gangrenous toes.
In the months that followed until her surgery in Kentville in April 2021, Susan spent time on the cardiac unit, 4South and 4East. She was there long enough to make friends she still keeps in touch with. She has now made a good recovery from the physical and emotional trauma. To show her appreciation, Susan is a WE CARE Radiothon supporter.
Susan Reed lives in Dayton.
We encourage you to share your stories of gratitude, kindness and compassion encountered in your hospital experience. With your permission, we'll share your positive story in one of a variety or potentially several of YHF communications.