Yarmouth Hospital Foundation WE CARE Radiothon 2023… was an incredible success:
Thank-you, Tri-Counties!
Read our 'Radiothon Reflections' here in our blog: https://yarmouthhospitalfoundation.ca/2023/03/radiothon-reflections-2023/
Thank you, also, to all our sponsors: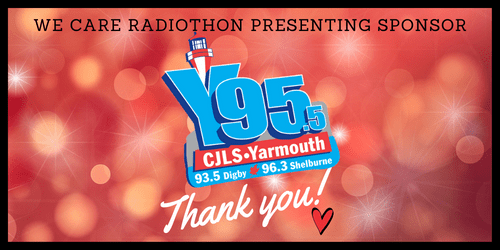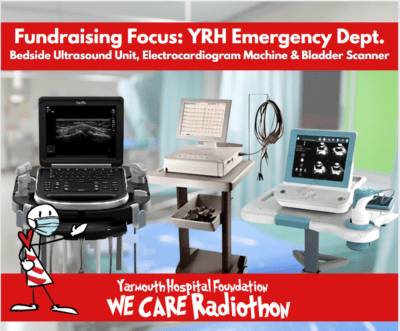 On March 2nd, 6am – 4pm, be sure to tune in to Y95.5 CJLS (93.5 Digby, 96.3 Shelburne) & listen to the live broadcast of the Yarmouth Hospital Foundation WE CARE Radiothon 2023!
We are fundraising live on Y95.5 CJLS towards three vital pieces of equipment for the Yarmouth Regional Hospital Emergency Department: a portable ultrasound, a bladder scanner and an ECG unit.
A

bedside/portable ultrasound

allows physicians to conduct imaging at the patients' bedside to assist with diagnosis or guide to further procedures.

An

electrocardiogram machine

is a painless, noninvasive way to help diagnose many common heart problems.

A

bladder scanner

is a non-invasive ultrasound medical devices intended for assessment and diagnosis of bladder disorders in people of all ages.
Be a Part of the Yarmouth Hospital Foundation   
                              WE CARE Radiothon 2023
On March 2nd, you can drop your donation in to Radiothon Headquarters at Yarmouth Mall or call the WE CARE hotline 1-844-866-6464! Otherwise,

you can donate anytime through

e-transfer or online payments, or send in a cheque (you can still call and tell us you did!) — we can't wait to hear from you!
Why not make a pledge and challenge your friends, family, peers or colleagues to match it? Check out this handy Challenges & Matching Gifts promotional tool kit

 for ideas and view a

sample challenge video

.

The WE CARE Radiothon online auction is returning this year from 9am, 13 Feb – 3pm, 2 March; and you're going to be amazed at the incredible experiences and treasures we have for you to bid on this year and help us raise money for the YRH Emergency Rooms! Bid now and it's win/win, for you and local health care!
Trivia is also back this year! From Wednesday 15 Feb – Wednesday 1 March, the WE CARE Radiothon trivia contest will again run live on Y95.5 and our Facebook every weekday. That means you have two chances every day to win a $25 gift card for gas at the PetroCan station at the corner of Starrs Rd. and Haley Rd.
The entire Tri-County community of Yarmouth, Digby and Shelburne will benefit from this needed equipment, and the entire Tri-County community is essential to the success of this important fundraiser! Every dollar counts: please join us in helping your regional hospital's Emergency Department!