In response to continued uncertainty regarding the COVID-19 pandemic, YHF &

Y95 – CJLS

are going wholly virtual for the 2022 WE CARE Radiothon.
What does that mean?    It means, rather than running Radiothon Headquarters out of the Mall or the radio station, you can check out our livestream on Facebook and listen to everything on Y95.5 CJLS. Rather than dropping in change on the day, you can donate through e-transfer or online payments  — or call in on the day on the WE CARE hotline 1-844-866-6464 and give us your card information, or send in a cheque (you can still call and tell us you did!)
Our fundraising focus for this year's We CARE Radiothon will be for some critical cardiac equipment — and this equipment has been a factor in the recruitment of a new cardiologist for Yarmouth Regional Hospital starting this Fall!
Why not make a pledge and challenge your friends, family, peers or colleagues to match it? Check out this handy Challenges & Matching Gifts promotional tool kit for ideas and view a sample challenge video.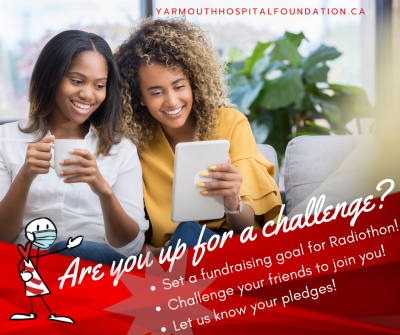 For the first time ever, Yarmouth Hospital Foundation is launching an online fundraising auction, starting Wednesday 16th February through to Radiothon Day!  Click here to bid on some great items!!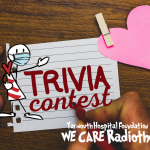 In addition,  from Thursday 17 Feb – Wednesday 2 March,  there will be a trivia contest run live on Y95.5 and our Facebook every weekday.  You have two chances every day to win a $25 gift card for gas at the PetroCan station at the corner of Starrs Rd. and the Haley Rd.
Please join us for this major fundraising event: every dollar we raise will make a difference to your Regional Hospital serving the tri-counties of Digby, Shelburne & Yarmouth!